Your character is your personal avatar used in the game. Over the course of your playing you will gain items, weapons, clothes, pets and gold for use by your character, and of course even Level Up. Currently you can have three characters per server.
Creating a Character
Edit
Once you've logged in, you will be able to select a server to play on. Once you select a server, you can create a character to play as. Clicking one of the three blank character slots will allow you to create your character. You will then be asked to select a preset character.
This choice is only temporary, once you select one you will be brought to the "Character Making" screen. From this screen you can name your character, choose your character's gender, hair style and color, skin color, eyes, mouth, and whether they are right or left handed. You can also adjust their size.
On the same screen, you will also be able to adjust your characters Parameters. These include Vitality, Strength, Dexterity, Quickness, and Mind. Be sure to allocate your stat points to fit your desired Class!!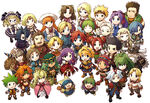 Secton Two
Edit
A second section.
Section Three
Edit
Followed by another section.